Amarillo at a Glance
The Arts

Globe-News Center for the Performing Arts - a $30 million, 1,300 seat performing arts facility in downtown Amarillo, Texas that opened in January 2006. Houses the Amarillo Opera, Amarillo Symphony, Lone Star Ballet, and various events; managed by the Amarillo Civic Center.
Amarillo Symphony Orchestra - now in its 89th season and welcoming a brand new conductor, Jacomo Rafael Bairos, this orchestra performs seven annual concerts, employs 85 professional musicians at an annual budget of $1.3 million.

Amarillo Opera - Performances year-round in the Globe-News Center featuring a variety of groups from around the world.


TEXAS! Outdoor Musical Drama - a story of Texas Panhandle settlers in the 1800s, performed at the Pioneer Amphitheater in beautiful Palo Duro Canyon every summer, Tuesday through Sunday.
Amarillo Little Theater (ALT) - established in 1927, ALT is one of the oldest continuously operating community theatres in the country with an annual budget of over $1 million.
Lone Star Ballet - founded in 1975, this organization owns a 17,600 square foot training facility and produces one of the premier Nutcracker performances in the nation.
Museums
Panhandle Plains Historical Museum (PPHM) - Texas' largest history museum and the only place you can cover 26,000 miles in one day on foot. Step into the Old West in a life-size Pioneer Town, learn about dinosaurs, study the history of the petroleum industry, or view one of the many rotating exhibits.
Amarillo Art Museum (AMoA) - Set within the Fine Arts Complex on Amarillo College's main campus, this is the only museum in the Texas Panhandle dedicated to the visual arts. Attracts rotating exhibits year-round.
American Quarter Horse Hall of Fame and Museum - Spectacular 45,000 square foot facility designed to celebrate the history and showcase the stars of the American Quarter Horse world. Welcomes 30,000 visitors each year with larger-than-life bronze statues of famous horses.
Don Harrington Discovery Center and Space Theater (DHDC) - A science museum that welcomes over 100,000 visitors each year and provides interac-tive exhibits and programs that actively engage children, adolescents and their families.

Charles Goodnight Home and Museum - One of the original five voted into the Cowboy Hall of Fame, Charles Goodnight was known as a cattleman, trailblazer, Indian fighter and more. The movie Lonesome Dove is loosely based on the life of Goodnight and hist friend Oliver Loving. The Historcial Center features Goodnight's home, originally built in the late 1800s, along with the surrounding 30 acres of land.
Recreation
Amarillo Botanical Gardens - an indoor/outdoor four-acre facility that features themed gardens and a tropical conservatory showcasing a flourishing collection of exotic plants. Also boasts a spectacularly landscaped amphitheater, seasonal events and special exhibits.
Palo Duro Canyon State Park - often called "The Grand Canyon of Texas" and the second largest canyon in the U.S., this 30,000 park boasts spectacular vistas and top-notch recreational opportunities including cabin rentals, camping, biking and hiking.
Wonderland Amusement Park - as the third largest amusement park in Texas, Won-derland attracts over 200,000 visitors a year from all over the world. The "Texas Tornado" a double-looped roller coaster and the "Fantastic Journey" haunted house are top attractions, as is the "Shoot the Chute", an innovative water ride and the first of its kind in Texas.
City Parks and Recreation - the City of Amarillo manages an extensive network of 64 parks, including a zoo, four public golf courses, a tennis complex, three public swim-ming pools, nine splash pads, several lakes and miles of walking trails. The City also hosts special events such as "Starlight Theater", a live music event, and organizes rec-reational league sports.

Route 66-Sixth Street Historic District - Amarillo's most intact collection of commercial buildings that possess significant associations with Historic Route 66. The district is a hub for nightlife and shopping, featuring restaurants, antique stores, and specialty shops housed in rehabilitated storefronts. The district was added to the National Register of Historic Places in 1994.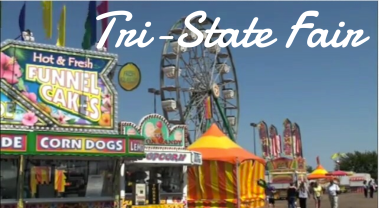 Tri-State Fair & Rodeo - the largest annual event each year in the Texas Panhandle averaging more than 130,000 people. In recent years, fair visitors have represented 36 states, several foreign countries and all 36 Panhandle counties.
Golf Courses - the City manages four public golf courses that include 2,200 acres of developed land. There are four additional private courses in the Amarillo area: Amarillo Country Club, Tascosa Golf Club/La Paloma Golf Club and Canyon Country Club.
Wildcat Bluff Nature Center - just minutes from downtown, this 600-acre nature conservancy is a beautiful stretch of rolling grassland with a signa-ture bluff that is home to several bobcats. There are over 5 miles of hiking trails, daily guided nature tours and several nature exhibits.
Bike / Walking Lanes and Trails - Amarillo adopted a Hike and Bike Master Plan in 2003 that integrated a system of multiuse (walking, jogging and bi-cycling) routes throughout the city. Additionally, Amarillo parks contain miles of scenic walking / jogging trails.
Area Lakes - Amarillo has five lakes located within its city limits, as well as three reservoirs and recreational areas, including Lake Meredith (35 miles), Lake Greenbelt (60 miles) and Ute Lake (100 miles).


Cinergy Entertainment - Cinergy is a larger than life entertainment complex featuring 10 movie theatres, more than 110 video games, bowling, escape rooms, laser tag, a full service bar and much more. Cinergy is the perfect place for a party, or just a night on the town.
Kid's Incorporated - a local organized youth sports program.

Amarillo College Kids College - Enrich your children's education with fun classes after school in art, cooking, sports, dance, gymnastics and more. Middle schoolers can attend Science, Technology, Engineering, Art and Math (STEAM) camps.

Hoop 10 - Hoop 10 Basketball vis dedicated to the growth, development, and instruction of players and families with regard to the sport of basketball. Hoop 10 provides camps, tournaments and training sessions throughout the year.

AMP'D - Over 10,000 square feet of trampolines and foam pits, trampoline dodgeball courts and private party rooms.


Amarillo Sod Poodles - AA Baseball Team - HODGETOWN in downtown Amarillo is the new home for the Arizona Diamondbacks' Double-A affiliate. The Sod Poodles play 70 home games each season, with a capacity of over 7,000. Come check out this exciting new entertainment option in the heart of Amarillo.